St. Nicholas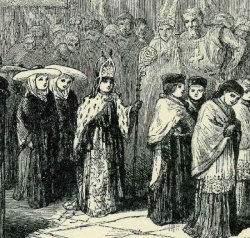 During the Middle Ages there was a custom on the Feast of Saint Nicholas to choose a boy who would act and dress as a bishop. In England this could go on as long as the Feast of the Holy Innocents on 28 December.
These Boy Bishops would be able to command respect from the grown ups, lead certain ceremonies of the Church and wear vestments specially made to fit for the occasion. He would be attended by other children who dressed up similarly as they acted out the roles of their elders. It was one of those moments when every thing could be turned topsy turvy.
In 1299AD when King Edward I was in the North of England he visited the chapel in Heaton to hear a Boy Bishop lead Vespers. Perhaps the King gave the child and his attendants some gifts though whether he would have shown him signs of respect is hard to know - Edward I was quite a fearsome character.
The Feast of Saint Nicholas was an obvious choice for picking a Boy Bishop. He was a popular patron saint not only of children but of seafarers, merchants, prisoners, pawnbrokers and many more. Many places had a church or a side-chapel in the parish church dedicated in his honour.
It is understandable that Newcastle, an important merchant port, had a church named after him in Medieval times.
Nicholas lived during the fourth century and was Bishop of Myra in what is now Turkey. He is said to have rescued children and from early times has been seen as their patron. He was noted for giving anonymous presents to the needy so his story is wrapped up with the development of that of Santa Claus.
Behind all the tom foolery of Boy Bishops we can see something important about the Christian life of children. Just as we mark the feast of Christ the King as Youth Sunday we express the important place the young have in the life and future of the Church. Children are made members of the Church when they are often only babies and we listen attentively to their prayers and their insights into the message of Jesus.
Sometimes people will decide that they will delay bringing their child for Baptism. It may be that they wish to allow their child to decide at a time when they are able to choose whether they want to be members of the family of the Church and disciples of Jesus. It seems a reasonable position to adopt and it is important to respect the decisions of parents.
There is a famous story told in the Gospels (e.g Mark Chapter 10) which might cause us to pause and wonder about this view. Parents bring their children to Jesus so that he might bless them but the disciples try to prevent this. We might wonder why anyone would want to prevent Jesus from blessing children.
Did the disciples feel that the children should not be bothering Jesus? There is a danger in imagining that only adults can appreciate the meaning of faith and true religion.
When we feel that we have grasped what life and faith is all about this story reminds us that to God we are not as sophisticated as we imagine. God sees us all as children who need guidance, a helping hand and a prompting to go in the right direction.
In a way, children give us a better example of what it is to lead a life of faith than any adult. Such a life is about simple trust and being open to learn and take in what is happening around us. Jesus insists that we have to approach his kingdom in a childlike way.
When parents bring their children to be baptised they act in the same way as those mothers and fathers centuries ago. They recognise that Jesus has a special place in his heart for little ones and that he listens attentively to their needs. As we raise children in a life of faith it is not simply a time when adults teach children; we have much to learn about the ways of God from them. Children seem to have a natural grasp of the spiritual life - sadly adults often ignore it or discourage it.
In a few weeks time we shall celebrate a day which we all say is especially for children. Rightly so, but it is also a day for adults when we can learn from children about wonder, joy and delight even in small and unexpected things.